Background
The first round of NOBALIS Entrepreneurial and Innovation capacity development (EICD) programme for food, biotechnology and bioresource start-ups took place in the fall of 2022.
Target groups: student, staff and student- staff teams from the 5 NOBALIS partner institutions and bioresource based start-ups.
Content: program combined Hackathon, a mentoring programme and development sessions with teams and a Demo Day for idea competition and ecosystem partners.
Check out the video on the program in Resources page https://nobalis.eu/index.php/resources-2/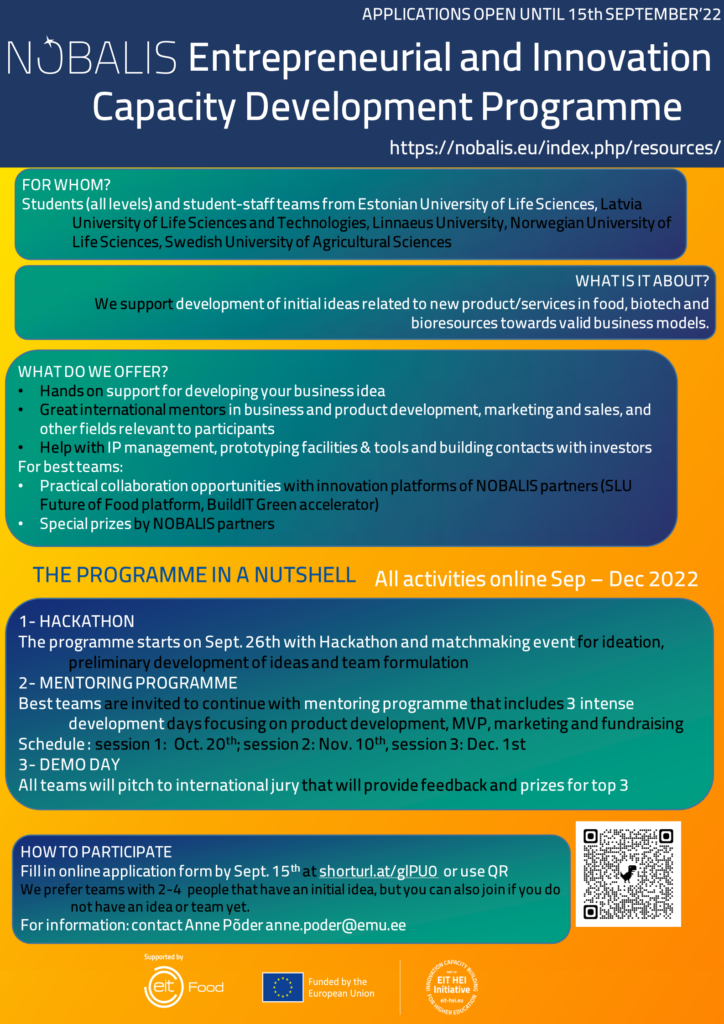 Virtual Hackathon on Sept. 26th 2022
The first NOBALIS food and biotech themed virtual Hackathon took place virtually on Sept. 26th. 50 students from 5 NOBALIS partner HEIs registered with 30 original ideas. Students had an opportunity introduce their ideas in a 1-minute pitch and work with mentors and an idea template in separate breakout rooms or look for a team in Matchmaking room. 9 teams proceeded with an update on their original idea. After Hackathon, the teams had an opportunity to submit an updated idea template. The ideas and teams were assessed and selected teams proceeded further to next development session.
Development Session and Mentoring Program on Business Model Development on Oct. 20th
9 teams proceeded into the next stage of NOBALIS EICD program. The teams include 6 student teams, 1 student-staff team, and 2 staff teams. The first intense development session for the teams took place on Oct. 20th. It marked the beginning of the mentoring program for the participants with hands-on workshops and intense 1 on 1 mentoring sessions. Jelena Žovnikova, Head of Business Development at Fundwise, hosted a workshop on business model development. Professor Gunta Grīnberga-Zālīte from Latvia University of Life Sciences and Technologies introduced effective marketing and sales strategies.
Product Development and Impact Management session on Nov. 9th
Second development session focused on sustainable product development and creation of minimum viable product (MVP)and impact management and measurement. Ragmar Saksing from Tehnopol GreenTech Cluster mentored teams on how to create MVP and design products with circular economy principles in mind. Jaan Aps, CEO of Stories for Impact, lead the session on impact management and measurement and worked with teams on building a good framework for measuring and managing environmental and social impacts.
Pitching and Financing Workshop on Dec. 6th
The third development session focused on how to fund the ideas and pitch those to the investors. Jelena Žovnikova covered the topics of different sources of private and public funding. Aleksander Tõnnisson from Cocoon Ventures trained teams on how to effectively pitch their ideas and how to engage the investors and how to best approach and engage them. Teams worked on their 3- minute pitches for the final Demo Day
Demo Day 2022
The first batch of student and staff teams in NOBALIS Entrepreneurship and Innovation Capacity Development Program (EICD) pitched their ideas to an international jury at Dec. 15th 2022. Demo Day provided an opportunity to demonstrate how teams have progressed, showcase their MVP and pitching skills. Student teams competed for a prize from BIA and awards from each HEI.
The teams in NOBALIS project demonstrated a variety of exciting ideas that included app development, DNA analysis, food waste utilization, and agricultural pest, seaweed, canola-based products. The first price went to student team UNwasted from Swedish University of Agricultural Sciences, who worked on using coffee grounds for growing mushrooms. Second place went to team KESE from Estonian University of Life Sciences who developed a protein bar from Canola. Third place went to team PowerFeed from Latvia University of Life Sciences and Technology, who were exploring developing protein from Spanish slug.